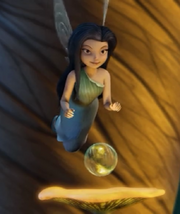 Water talent faries make rain so the light faries can make rainbows. They also put dew drops on spider webs  and help fish get up stream. The are responsible for watering the meadows of pixie hollow. 
Most water faries wear various shades of blue, green, and purple.
When a new fairy is born they put a water droplet on the mushroom. 
Known Water Talents
Edit
SIlvermist
Marina
Hydrangea